Are Adult Braces Worth It?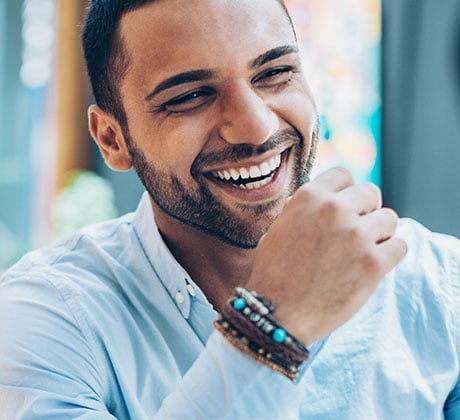 Adult Orthodontic Treatment In San Antonio
At South Texas Orthodontics, we believe it's never too late to begin working towards the smile of your dreams. That's why we offer adult orthodontic treatment in addition to adolescent and early treatment. Our San Antonio orthodontists offer a variety of services, including braces and Invisalign. No matter which treatment you select, our team is ready to help you begin the orthodontic process.
Am I Too Old For Braces?
According to the American Association of Orthodontics, one in five orthodontic patients is over 18 years old. While orthodontic treatment is ideally conducted during childhood, adult braces are becoming increasingly more common. During childhood, your teeth and bones are still developing and moving. This makes the process quicker and easier, as your San Antonio orthodontist can use the natural growth of your mouth to speed orthodontic treatment along. As an adult, however, your bones are typically finished growing, which means the process may take longer. That being said, our orthodontist will work with you every step of the way, until you are happy with your smile.
Adult Braces Options
One of the main concerns adults express when searching for orthodontic treatment is how noticeable or intrusive their orthodontic appliances will be. Your San Antonio orthodontists offer a variety of adult braces options in order to best meet your needs and preferences.
Metal Braces
Metal braces are the traditional type of braces, using metal wires and brackets that are fixed to the front of your teeth throughout treatment. While metal braces are the most visible treatment option, they are also the most versatile and durable, treating a wide variety of orthodontic problems.
Ceramic Braces
Ceramic braces function similarly to metal braces, but they are made of a translucent ceramic material, making them blend in more naturally with your teeth for a discreet treatment option.
Clarity™ Braces
Clarity Braces are an enhanced ceramic braces option, offering more aesthetic benefits and functionality than the basic ceramic braces.
Incognito™ Braces
Incognito braces offer orthodontic treatment that is invisible to the eye. Brackets are attached to the lingual (tongue-side) of the teeth, rather than the front.
Invisalign
Invisalign is a system involving a series of clear, plastic aligners. The aligners are worn 22 hours a day, are removable, and are basically an invisible adult braces option.
In addition to these types of braces, we offer a number of services and treatments that can accelerate and enhance your treatment time. Speak with your San Antonio orthodontist to see which options are right for you.
Benefits of Adult Orthodontic Treatment
If you are considering adult braces, you may be experiencing dissatisfaction with the aesthetics or functionality of your smile. Adult orthodontic treatment can improve unappealing gaps, crooked teeth, and other aesthetic imperfections. Additionally, adult braces can improve problems such as chewing issues, speech issues, and jaw pain.
The importance of orthodontic treatment extends far beyond your mouth. Gaps between your teeth make it easier for tooth decay and cavities to develop. Many people are unaware that oral hygiene issues can negatively affect your general health. For example, poor oral health has been connected to cardiovascular and other diseases. Speaking with your San Antonio orthodontist about adult braces is a step towards improved orthodontic and overall health.
Visit Your San Antonio Orthodontist
To answer our original question, are adult braces worth it? The answer is yes! It's never too late to start improving your oral and overall health. Our orthodontic experts are here to help. If you have any questions about our treatment options, please contact us or schedule an appointment online. We look forward to meeting you soon!

Call today to schedule your appointment or request an appointment online.