Braces 101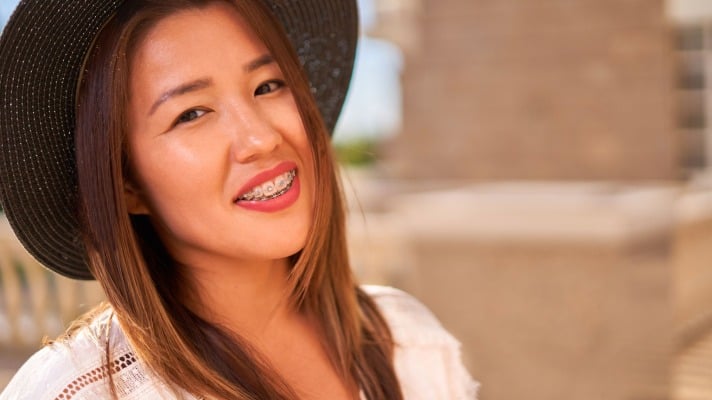 If you are considering braces in San Antonio, you may be apprehensive about the cost of these treatment options or about how braces will look during your treatment. At South Texas Orthodontics, we are here to put your mind at ease about these issues. Our team of orthodontic specialists can provide you with options that will help you look your absolute best and will improve the quality of your bite. If you are looking for orthodontics options for you or any member of your family, our team can provide you with the services you need at an affordable price.
What Are Braces?
Braces are orthodontic appliances that attach to teeth and gradually move them into the desired position to create a straight and even smile. Metal brackets are usually cemented to teeth and connected with metallic wires that are tightened by your orthodontist. This makes it easy to correct misalignments of your teeth over a period of time and with minimal discomfort for you or your family members.
What Are the Various Types of Braces?
The orthodontists at South Texas Orthodontics can apply braces in a variety of configurations and types. Some of the most popular options we offer in San Antonio are listed here:
Metal braces, also referred to as traditional braces, are one of the most cost-effective and effective options for straightening teeth. Composed of brackets that are attached to your teeth and wires that connect to these brackets, traditional braces require regular trips to your orthodontist in San Antonio to tighten the wires and to check the progress of your tooth realignment. You can expect to see your orthodontist once every four to eight weeks to make sure your teeth are moving into position as expected.
Ceramic braces work in much the same way as traditional braces. The difference is in the appearance of these orthodontic appliances. Unlike metal braces, ceramic or transparent braces are constructed out of see-through or tooth-colored materials that look much more natural. This can make the process of straightening your teeth less stressful and can help you feel much more confident when meeting new people or interacting in social or professional situations.
Another way to minimize the appearance of metal braces is to place them behind teeth rather than on the front surfaces. Lingual braces are a popular option for people who want to straighten their teeth without the metal look of traditional braces. At South Texas Orthodontics, we can apply lingual braces that can allow you to show off your brilliant smile without metallic brackets and wires getting in the way.
Invisalign® tray aligners and other clear aligners work differently than most other types of braces. These aligner trays are customized to fit your teeth and to apply gradual pressure to move individual teeth into place. As your teeth are gradually realigned, you will move to the next aligner tray to continue the process of straightening your teeth. Depending on the amount of repositioning required to bring your teeth into perfect alignment, you may go through as many as 50 trays before your teeth are aligned properly. The average number of trays required for patients at South Texas Orthodontics is between 20 and 30, which can often be completed within a year.
If you need help from a caring and knowledgeable orthodontist in San Antonio, the professionals at South Texas Orthodontics can provide you with the right solutions for your needs. We are here to help you enjoy straighter teeth and a more attractive smile now and in the future.
Planning Your Orthodontic Treatment
When considering the right orthodontic options for your needs, cost will usually be a factor in your decision. Traditional metal braces are usually the most affordable options. If you are concerned about how you will look during the treatment process, however, you may want to upgrade to ceramic or lingual braces. Because clear aligners can be removed for brushing, flossing, and sleeping, they make it much easier to keep your teeth clean and healthy.
The administrative team at South Texas Orthodontics can help you determine whether orthodontics treatments are covered by your dental plan. We also offer payment plans for qualified patients to make it easier for you to manage the cost of braces in San Antonio. Our dentists work to ensure that our services are as affordable as possible, which can make it much easier for you to manage budgetary issues associated with your orthodontics care.
Caring for Your Teeth While Wearing Braces
Braces can make it more difficult to brush and floss your teeth. At South Texas Orthodontics, our orthodontists can provide you with detailed information on the most effective and the safest ways to approach dental hygiene while wearing braces. It is important not to brush too hard or with a hard-bristled toothbrush. Brushing and flossing gently can remove plaque and tartar without posing a risk to your delicate dental work.
You will also need to schedule visits with your orthodontist to check the progress of your tooth realignment and, for metal braces, to tighten the wires and continue the straightening process. Your orthodontist in San Antonio will provide you with a schedule and appointments for these visits that will allow you to achieve the best results from your braces.
What to Expect After Your Braces Come Off
Once your teeth are in the proper position, your orthodontist will remove the braces. You may need to schedule a dental cleaning or even a teeth whitening treatment to restore your teeth to their former brilliant shine. In some cases, your orthodontist may recommend the use of a retainer for a few hours each day to prevent your teeth from moving from the desired location. Retainers are removable dental appliances that are designed to provide added help in realigning teeth.
If you need orthodontic care in San Antonio, South Texas Orthodontics is here to help. Give us a call today at to schedule an initial consultation or to begin your journey to straighter teeth and a more beautiful smile today. We look forward to the chance to serve you.