Braces, Invisalign & More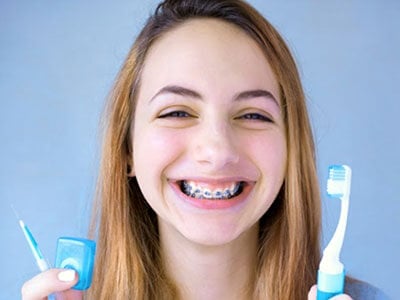 We know that both dentists and orthodontists take care of our teeth and improve our oral health, but how are they different? It's very important to keep up with regular visits to your dentist to maintain healthy teeth and gums, but the orthodontist can correct problems with your smile, bite, jaw, and also correct cosmetic issues through braces, Invisalign, and more. Let's take a look at the difference between an orthodontist and a dentist.
How Are They Different?
Both dentists and orthodontists specialize in caring for the teeth, but they do this in different ways.
Your dentist encourages you to practice good dental hygiene through brushing and flossing your teeth, and avoiding sugary foods that can cause decay. He or she also provides services and treatments that relate to:
Exams & cleanings
Oral hygiene
Tooth decay
Root canals
Crowns
Bridges
Gum disease
Teeth whitening & veneers
Your orthodontist has had obtained further schooling to reach a higher dental speciality, and specializes in services related to the alignment of the teeth, appearance of the teeth, and improvements in the bite and jaw. He or she corrects crowding, crookedness, spacing, bite issues and other jaw issues, and provides services such as:
Braces
Adult Braces
Invisalign
Invisalign Teen
Orthodontics is a dental specialty that deals with the alignment and appearance of the smile, including the teeth, gums, jaw, and all relevant areas. If you have ever tried to hide your teeth when smiling, or if you are dissatisfied with the appearance of your smile, orthodontics is the perfect solution to help you regain your confidence and enjoy a stunning smile for years to come.
Improve Your Smile With Invisalign or Braces Today!
Are you looking to improve your smile with orthodontic treatment? South Texas Orthodontics specializes in a wide variety of treatments including braces, adult braces, Invisalign, Invisalign Teen, and much more. If you have any questions related to orthodontics, or any of the services we provide, we welcome you to contact us. Or, request a consultation now! We can't wait to help you obtain the smile of your dreams!

Call today to schedule your appointment or request an appointment online.