Gum Care Awareness: Why Caring for Your Gums and Teeth Matters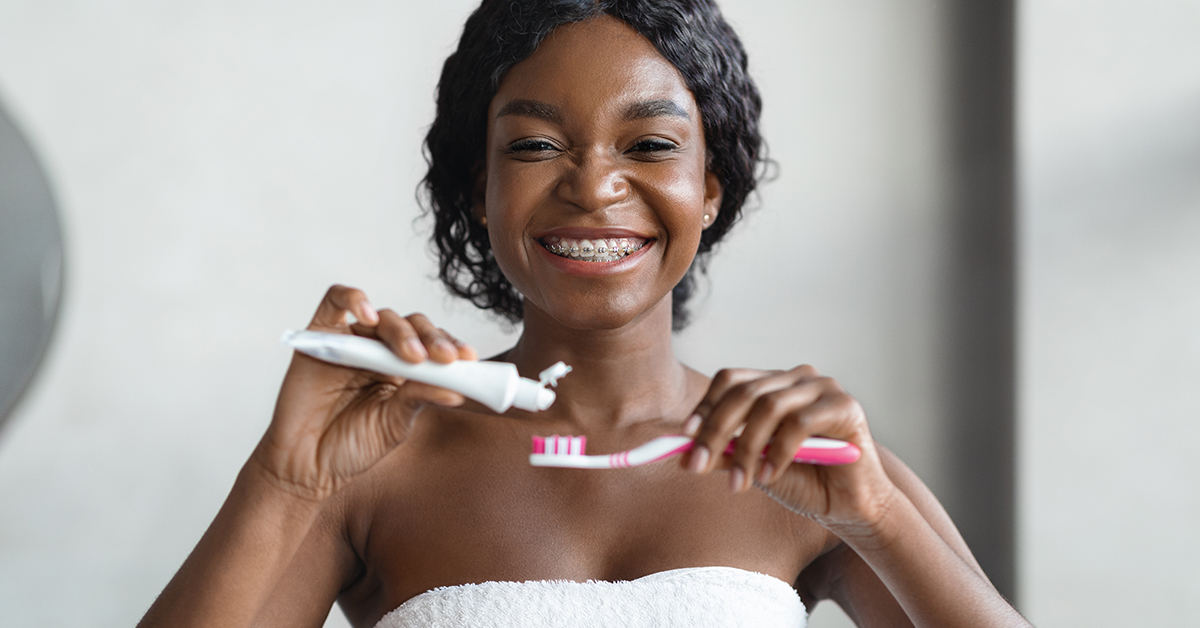 Orthodontic procedures typically involve the realignment of teeth into a healthier and more functional position. This is usually accomplished by using orthodontic braces or retainers that gradually guide the teeth into the desired position. Finding the right orthodontist in San Antonio can help you navigate the process more easily and can ensure that your teeth and gums stay healthy and attractive during orthodontic treatment and after your braces are removed and your treatment is complete.
Ready to give your gums the attention they deserve during your orthodontic treatment? Schedule your appointment today!
Proper Gum Care During Orthodontic Treatment
Caring for your teeth and gums is an essential part of dental hygiene. Brushing your teeth regularly is perhaps the most important element of your dental care regimen. Your dentist will typically recommend a toothbrush and a fluoride toothpaste that will strengthen your tooth enamel. You will also need to floss between your teeth. Braces can make this process more difficult. In most cases, your orthodontist in San Antonio will recommend using waxed floss to reduce the risk of damage to your braces during this necessary dental care activity.
Your dental care team may also recommend the use of a fluoride mouthwash to rinse away food debris and plaque from your teeth between brushings or after flossing your teeth. Avoid mouthwash products that have significant amounts of alcohol, as these can cause damage to tooth enamel and may irritate your gums. Your dentist or orthodontist will also schedule regular teeth cleaning appointments to keep your teeth and gums safer from the negative effects of gum disease.
What Is Gum Disease?
Gum disease, formally referred to as periodontal disease, is a progressive condition that affects the teeth and gums. This condition begins as gingivitis, which is generally characterized by redness or irritation of the gums. Left untreated, however, gingivitis can quickly develop into gum disease. Gum disease can cause bleeding of the gums, looseness of teeth and, in severe or prolonged cases, the loss of teeth because of the breakdown of connective tissue in the jaw and the deterioration of bones that hold your teeth in place securely.
Gum disease can affect almost anyone. For patients undergoing orthodontic treatments in San Antonio, however, the difficulties often experienced in brushing and flossing teeth thoroughly while wearing braces can increase the risk of periodontal inflammation and gum disease. Your dentist or orthodontist will often provide you with added instructions on how to prevent gum disease from developing while you are receiving orthodontic treatment in our area.
Warning Signs of Gum Disease
Regular examinations by your orthodontist or dentist in San Antonio can often allow your dental professional to identify the early warning signs of gum disease. This can allow treatment to begin immediately, which can reduce the impact of this serious dental condition on your teeth and gums. Some of the most common warning signs of gingivitis and periodontal disease include the following:
Red or sore gums: If your gums feel itchy, sore, or are red and inflamed, you should contact your dentist in San Antonio right away to begin treating this condition.
Receding gums: Over time, your gums can recede to reveal more of your teeth. This can often expose enamel and can result in injury to or inflammation of your gums.
Bleeding gums: If your gums bleed frequently or intermittently when you have not been brushing or flossing vigorously, you should consult with your dentist or orthodontist to determine if gum disease might be the reason for these symptoms.
A change in your bite: Braces cause significant shifts in the positions of your teeth. If your teeth feel loose or your bite feels odd, it is usually worthwhile to let your orthodontist know. Loose teeth and shifts in the way your teeth come together could be signs of gum disease.
Looseness of teeth: As gum disease progresses, your teeth will become looser because of the breakdown of bone and connective tissues inside the jaw. In the final stages of periodontal disease, tooth loss caused by this deterioration is relatively common.
Orthodontic appliances can sometimes cause irritation of the gums because of their position. Additionally, failing to keep your teeth clean and healthy while wearing braces can also increase your risk of gum disease. Working with a qualified and knowledgeable orthodontist in San Antonio can help you manage these issues much more efficiently, promoting healthier teeth and gums.
Do your gums need some attention? Call our office today to schedule your appointment.
How Orthodontic Treatment Works
Braces and retainers are dental appliances that are used to realign teeth. This can improve your bite and can improve the appearance of your teeth to a considerable degree. Retainers are removable for cleaning and are worn for a certain number of hours each day to achieve the best results. Braces, however, are attached to your teeth using brackets that guide each tooth into the appropriate part of your mouth. Wires are used to tighten the brackets and to guide the teeth into the right position to correct issues with your bite and to improve your appearance.
Because orthodontic braces cover up much of the surface of your teeth, it can be tricky to brush around these dental appliances. Giving your teeth and gums the proper attention can ensure the best outcomes for your teeth during and after your orthodontic treatment in San Antonio.
To learn more about the orthodontic treatments we offer in San Antonio or to begin the process of aligning your teeth properly, call South Texas Orthodontics today at . Our team will be happy to work with you to find the perfect solutions for crooked teeth and to help you achieve the beautiful smile and healthy bite you have always wanted.