Orthodontic Treatment For Adults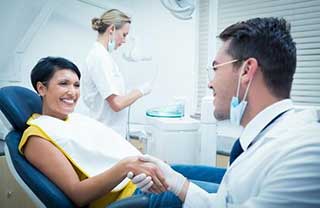 Orthodontic Treatment For Adults In Southern Texas
At South Texas Orthodontics, our orthodontic team has the amazing opportunity to meet new adult patients every single day! With the advancement of orthodontic technology making treatments more discreet, our staff couldn't be happier to see more adults than ever before visiting our offices in San Antonio and Schertz for orthodontic consultations. South Texas Orthodontics firmly believes that it's never too late to achieve a beautiful, healthy smile!
Adult Treatment Vs. Pediatric Treatment In San Antonio
With a wide variety of braces, like Incognito Braces and Invisalign aligners, it's no wonder so many adults are choosing South Texas Orthodontics to perfect their smiles! While orthodontic treatment is suitable for patients of all ages, there are a few fundamental differences between adult treatments, and treatments for children:
Differences In The Jaw & Teeth
There are a few physical differences between adults and children that affect how orthodontic treatment works! In an adult, the jaw is no longer developing or growing, making it impossible to change the actual structure of the jaw. When adults need orthodontic treatment to correct crooked or misaligned teeth, orthognathic surgery may be necessary (in conjunction with adult braces) in order to properly straighten the teeth and jaws.
Differences In The Gums
Whether you're a child, teenager, or an adult, your gums must be healthy before orthodontic treatment can start, as braces or aligners put constant pressure on the teeth to prompt them to move through the gum tissue. While kids generally have healthy gums, many adults have some form of gum disease present, making it difficult to initiate the treatment process. If you're an adult who wants to start treatment at South Texas Orthodontics and you have any sign of gum disease, you'll have to improve the health of your gums before you can start wearing braces or utilize Invisalign clear braces.
Faster Treatment Times In Schertz, TX
On average, adults are usually more cooperative than kids! Whether it's staying on top of making orthodontic appointments, or following directions about caring for their teeth and braces perfectly, this good patient compliance helps make the adult treatment process smoother and faster at South Texas Orthodontics.
Our Adult Orthodontic Treatments
When you choose South Texas Orthodontics, you can feel at-ease knowing you're in great hands. Our advanced adult orthodontic treatments will help you achieve your dream smile! Whether you need adult braces, or you are interested in Invisalign clear braces, our primary goal is to give you the best bite possible, regardless of your age. Our orthodontists have a keen eye in identifying structural problems within the adult mouth and jaw, working hard to find the best possible solution to fix misaligned teeth. Our state-of-the-art adult orthodontic treatments include:
Incognito Braces
SureSmile Technology
AcceleDent Aura
Retention
Orthognathic Surgery
Get In Touch With Your San Antonio Orthodontists Today!
If you're an adult who'd love to have a beautiful new smile, we'd love to help you achieve just that! With two convenient office locations in Schertz and San Antonio, it's easier than ever to get the smile of your dreams. To get started on your adult orthodontic journey, please contact us today to schedule a consultation!