Should I Get Invisalign or Braces?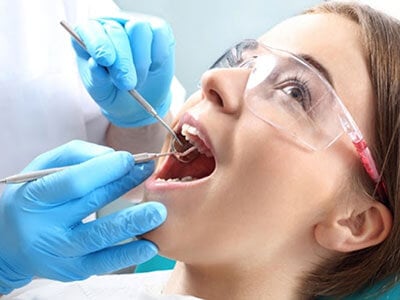 If you're one of the many people who don't feel confident with their smile, you may have considered orthodontic treatment to correct this issue. However, with multiple types of treatment available these days, it can be difficult to discern which treatment may work best for you. Braces and Invisalign are two of the most popular treatment options available today. But how do you know which treatment to choose?
What's the Difference?
Though they both achieve the same end goal, there are many differences between braces and Invisalign treatments. Before you decide which of these orthodontic treatments may be right for you, it's best to first have a good understanding of what each treatment is comprised of.
Braces & Adult Braces
Braces, typically thought of as the traditional form of orthodontic treatment, are still one of the most common forms of treatment used today. Braces work by using an archwire that is held in place by a series of brackets affixed to each tooth. Gradually, the wire is tightened during orthodontic appointments with your orthodontist, and as the wire is tightened, it slowly moves crooked teeth into place to form a straight, healthy smile.
Though traditionally seen on younger patients, braces aren't just for children anymore. In fact, according to the American Association of Orthodontics, one in five orthodontics patients are now adults. Adult braces have become increasingly common as more and more adults have begun recognizing the health benefits and confidence boost that come with having a straight smile, so it's never too late to get the smile you deserve!
There is special care that needs to be taken while undergoing braces treatment. Because of the brackets and wires used during treatment, certain types of food, such as especially hard, crunchy, or sticky foods, should not be eaten in order to avoid potential damage to braces. While brushing and flossing, detailed attention should also be given to the areas around brackets and wires to make sure that no food or plaque is left behind in these difficult-to-reach places.
Invisalign & Invisalign Teen
For some orthodontic patients, traditional braces may be a little too conspicuous for their tastes, or they may not be ready to commit to the extra care they require. Luckily, there are alternative treatments available, such as Invisalign and Invisalign Teen. Invisalign treatment is completed by using clear aligner trays that fit over you teeth. A mold is taken of your teeth and a series of Invisalign clear aligner trays are created that, when worn, gradually adjust the position of your teeth until they reach the desired outcome.
Patients are turning to Invisalign and Invisalign Teen because these clear aligners are made of smooth plastic, allowing for a discreet, more comfortable orthodontic treatment. You also reserve the freedom to eat all the same foods you typically do, since Invisalign trays are taken out for eating and brushing. While Invisalign typically costs a little more than traditional braces treatments, many patients find the convenience of clear aligner trays well worth the money.
Talk to Your Orthodontist
Ultimately, it is best to consult with your South Texas orthodontist to help you find out if you're a good candidate for orthodontic treatment, and what treatment option is best for you and your unique orthodontic needs. Whether you decide on braces or Invisalign, your doctor at South Texas Orthodontics will provide the guidance and care you deserve.
Schedule Your Appointment Today
If you would like to learn more about braces, Invisalign, or Invisalign Teen, the orthodontics experts at South Texas Orthodontics are here to help. With five convenient locations throughout the Greater San Antonio Area, reliable orthodontic treatment is always within reach. Contact us today to learn more and schedule your first appointment, or simply fill out our convenient online request form today! We look forward to hearing from you!

Call today to schedule your appointment or request an appointment online.