"Where can I find a trusted dentist near me?" Finding a dentist you like and trust can be a challenging venture. But, if you are tired of looking for a new dentist, we'd love for you to visit our dental office. Our team of caring and talented professionals always endeavor to provide quality dental care for all patients.
Always Aiming to Offer the Best Dental Care Possible
Our team members are passionate about the field of dentistry. Their goal is to provide you with a memorable dental experience. To help you feel welcome from the second you walk into our doors, you'll be greeted with a friendly smile and a warm atmosphere. We don't ever want you to feel rushed into making a decision about your oral health, so our dentists will take the time needed to talk about your available treatment options and address any of your potential concerns.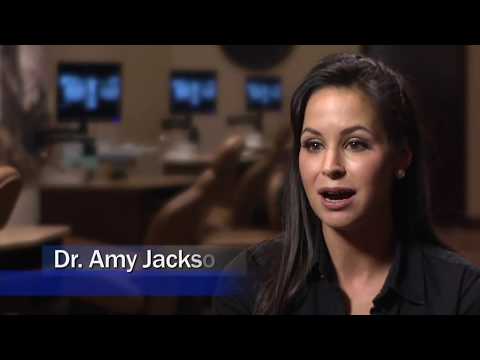 In addition to providing quality dental services, we also care about your comfort level. This is why our staff works hard to ensure that all patients feel comfortable and at ease. Even if you have dental anxiety, we'll do whatever we can to ensure a stress-free dental visit. If you have a busy schedule, we'll help you find an appointment window that fits into your schedule.
Our dentists also want to help you avoid costly dental procedures, so we'll provide you with the tools and education needed to practice good oral hygiene habits at home. Our goal is to provide a lifetime of the best dental care possible, and we aim to accomplish this with our unrivaled customer service and expert dental care.
Our staff is dedicated to helping you achieve personalized, quality dental care for you and your entire family. Continue reading to discover what our long-time patients have to say about our quality of care.
I dreaded getting braces, but my day was quickly brightened due to the y. All of the ladies of this facility were very kind, polite , and helpful. However I do have a favorite. Victoria is a very sweet worker. She makes lovely small talk, she explains and guides me through her work in my mouth, and answers all questions I have, in depth. I always looked forward to seeing her in the office; hoping she would be adjusting my braces that day. She is gentle to my mouth, always making sure I'm comfortable, and she has a great attitude. Victoria is the best! Excellent overall experience.
Sidney H.
Dr.B is so nice and sweet. The whole staff is amazing and Tiffany is just the best. Love this office very much, I highly recommend it.
Amariah T.
My daughter recently got braces and the experience was wonderful. The doctor and Staff are simply amazing. They get to know all of their customers well and meet the needs of each individual. Our dental insurance did not cover orthodontia but we were offered other options that were affordable and allowed us to get my daughter braces. I highly recommend all South Texas Orthodontics locations but the Tezel one is our home base and everyone there is wonderful!
Michael C.
My daughter got her braces a year ago and she's at the end of the process. They are so helpful and walk with you through the whole process. Staff is always courteous and friendly! Would recommend highly!!!!
Lisa S.
The whole process was a great experience. Dr. B. and staff took great care of my daughter's teeth, and now that smile is even more beautiful.
Brad B.
staff is friendly and dr. jackson is very thorough. they offer in-house financing for cash patients and re-examinations are complimentary for returning patients.
Joshua S.
The Sure Smile experience was great! I got my braces on in September of 2013 and they are coming off in October of 2014! The people that worked on my braces were very nice and always let me pick out my favorite colors. The office on Tezel is close to my house and it usually only took 15 minutes for appointments. I'm super excited about my new smile! I'd definitely recommend Sout Texas Orthodontics.
Sarah S.
Very pleased with my son's treatment and progress. Braces off sooner than expected. Great staff especially when dealing with our hectic schedule and having to reschedule appts. Son very pleased as well!! Great job DR. JACKSON!!! Would highly recommend South Texas Orthodontics!
Dana C.
I chose the Tezel location of South Texas Orthodontics for my daughter due to its convenient location near our home and Stevenson Middle School, where my daughter attended at the time she began her treatment. But now I am glad I chose them for many more reason than that. Everything has gone smoothly. The office staff have worked with my two dental insurnace companies seamlessly. Scheduling and rescheduling appointments has been easy. We are also pleased that her treatment has taken shorter time than originally estimated. Just 13 months!
Darla S.
I highly recommend South Texas Orthodontics! Very flexible and work with your schedule. Dr. Jackson and staff at both Tezel & La Cantera locations are amazing!! Braces off and my child loves his smile:) Thank you!
Yvette H.
Dr. B is an amazing orthodontist; Dr. B and his amazing staff are gregarious and kind, and I would recommend SouthTexas Orthodontics to anyone.
Sara A.
From the very first consultation to when I got my braces off Dr. Bruchmiller, and his staff have always gone above and beyond at each and everyone of my appointments. I can't believe the end result compared to how my smile looked before braces!! its such a big difference!!! Thank you so much :)I was recommended to South Texas Orthodontics by my older sister, and will recommended them to everyone!!!
Lariza C.
My experience with Dr. Jackson has been great. She is a really good perosn and an awesome doctor. I will recommend her to anyone who needs braces. The other staff members are really nice and always smiling.
Avery H.
thank you Dr.B for you amazing work and being so patient with me! You and your team did amazing work. thanks for everything again :)
Kathi A.
My experience with South Texas Orthodontics was really satisfactory. They were always so polite and patient and they scheduled appointments that fit your schedule. They also give you a school excuse. If someone I know ever needs braces, I will recommend South Texas Orthodontics.
Marina D.
My son Gilbert loved South Texas Ortho. on Tezel Rd. He felt very comfortable and was pleased with his new mouth. Thank you for providing Gilbert with a positive experience.
Angie M.
I highly recommend South Texas Orthodontics to everyone!!! They are truly wonderful! Dr. Bruchmiller and his staff are very friendly, reliable and helpful!! I am very happy with my results!!! Thank you so much for everything!!!!!!
Brittany V.
My daughter just recently got her braces off – this was the first time in our family to experience 'braces'. Not ONE time did we walk away from this experience, not only from my daughter's perspective, but from a parents perspective too, feeling regretable. We absolutely LOVED this ortho group and would go back in heart beat.
Jeremiah G.
Love everything about this place. Fantastic staff. Especially the front desk girl!! Greaaaat service with smile.
Cajjdiem
They absolutely had the kindest staff, I would recommend to a friend any day!
Mia C.
Awesome staff, very friendly would really recommend them to anybody.
Yesenia G.
Thank you Dr. B & to your excellent staff.
Debra G.
Best orthodontist!! The staff is extremely friendly and accommodating. Sam was so great with my Son. She made us feel extremely comfortable with her, always made herself available for any questions or concerns. Treatment went well, finished earlier than expected. Highly recommend!!
Janie H.
Great team at STO!!! My daughter recently had her braces removed (13) and she looks fabulous!!! "crying!!!!! (not a baby anymore WAHHHHH) Thanks so much to Tiff!! Sam!!! Brinley!!! and of course DR B!!!! and the rest of the team!!!! Lanet!!! (not sure if I spelled any of the names correctly!! and >>MIMI!! SELEINA!! BARTA!!!!! Thank you Jesus Christ for letting us be able to do this and uhh and uhh – Thanks for the MOM of the year award!!! THANKS to ALL MY FANS!!!!!!!!!
N.P R.
Wow, I can't believe it's been 18 months since my son got his braces! We have had an awesome experience at South Texas Orthodontics! All the staff is very friendly and helpful. Our ortho assistants Sam and Tiff were amazing every time!!!! They are very punctual and they did their jobs very well!!! Dr. B was amazing too! I would highly recommend them if your child needs braces.
Belinda G.
Dr jackson and her staff are amazing …
Amajon K.
This experience has been amazing! I can't thank Dr. Jackson and Natalie Esquivel enough, as they made the whole process as painless as possible. The entire staff is friendly and professional, and would happily recommend them to the rest of my family and friends.
Jennifer D.
Great experience! Wonderful Doctors and Staff! My daughter is 13 years old and got her treatment within 18 months her teeth are nice and straight! Samantha is awesome she took care of my daughter throughout her treatment. Highly recommend.
Ritz
My experience at South Texas Orthodontics, with Dr. Jackson, has been amazing! I had my braces for a year and the time flew by. Dr. Jackson is patient, professional and does amazing work! Ariel was always very welcoming and consistently wore a smile on her face. Dee, Jen and Sam made all of my experiences comfortable and enjoyable. I was very anxious at the beginning, but the wonderful staff made me feel right at home and put my mind at ease. I would highly recommend any person wanting to straighten up their smile to chose South Texas Orthodontics and their fantastic staff!!! Thank you all for such an amazing experience! I love my new smile and am more confident in showing off my beautiful teeth. I will miss all you terrific women!
Andrea A.
Dr. Amy Jackson is the best and I especially love her staff ❤️ Natalie has been so helpful and knowledgeable.
Michelle S.
I love the staff very friendly and hospitable. I love them like my own! Thanks everyone…..
Geoffrey H.
Great staff and amazing doctors. I highly recommend!
Geoffrey W.
My daughter had braces here and had a great experience! Easy appointment booking and her teeth are perfect! Would recommend to anyone!
Lexi W.
Excellent Service!! Dr. B was amazing, along with the ladies that tended to my braces. My braces were removed in a timely manner and my smile is just gorgeous! Thank you so much Dr. B and the staff at the Schertz location!!!
Jamohri B.
South Texas Orthodontics really saved me in a pinch. I was 4 weeks post jaw surgery and traveling for work. I noticed some shifts in my bite and my doctor recommended elastics to assist. Unfortunately, I had forgot my elastics for my trip. South Texas Orthodontics helped me out and provided me with the best customer service and experience. I value any doctor's office that is willing to assist patients that aren't their own. Thank you again!
Nathalie T.
Dr. Amy Jackson and her staff were amazing. I just got my braces off today and I love the results. Special shout out to Jenn and Ariel for taking great care of me through the process. You two rock!!!!
Kealoha R.
Great staff! My daughter can now smile confidently without having to put her hand over her mouth to hide her teeth.
April R.
Both of my children went to Dr. Brad Bruchmiller when they needed braces and their teeth look great! When I noticed my teeth had shifted over the years, I went to him to see what could be done. He suggested Invisalign to correct them and I was amazed! The process was so easy and I could see how quick my teeth were moving. I would highly recommend Dr. Brad Bruchmiller for any orthodontic need you have.
Jeanine L.
Dr. Amy Jackson and her staff are phenomenal. All 3 of my kids have gone to her over the past seven years. They truly care about each patient and do not rush our appointments. They make us feel like family. They help us with whatever my kids need, and take the best approach to each situation. I highly recommend Dr. Jackson!
Dana B.
Office staff and Orthodontists always very professional!!! Our family had an awesome experience with Dr Bruchmiller. My daughter is very happy with the results!!!
Michael R.
BEST ORTHO EVER!!!! Thank you to everyone at STO in Schertz!
Heather D.
Dr. Bruchmiller and his staff are amazing! They have treated my whole family and I have recommended them to several friends!
Crystal G.
I got braces here as a kid but I didn't wear my retainers after the first couple years (what teenager does??). Had such a great experience as a kid that I went back as an adult and was pleased to see the environment was just as awesome! Friendly atmosphere, flexible scheduling and awesome staff!
Erin A.
If I had to go this experience again I would. Dr. B and all of the staff were amazing. I would definitely recommend everyone to South Texas Orthodontics!! Keep up the great work.
Jessica S.
I just got my braces off and my teeth are perfect !!! But I can say I will miss the whole staff . They are all so kind and always did what was best for me . If you're looking to get braces somewhere come here ! You will feel right at home !
JILLIAN M.
So thankful for Natalie (my dental assistant whom was very informative and attentive) and all the wonderful people there that allowed me to get the smile I've always wanted!
Sebstaytru
A really professional, friendly, and thorough orthodontist. From the time of our first appointment to the very last, the staff was courteous, on time and made the experience really nice.
Ilona T.
All three of my daughters 11, 15, and 14 have braces/headgear. The staff is friendly, caring, and professional. Highly recommended
Linda W.
Dr. Any Jackson did an amzing job with my son! He just got his braces off and hasn't stopped smiling! She and her staff are very professional, friendly and accommodating. I highly recommend South Texas Orthodontics!!!
Wendy F.
Dr. Bruchmiller is wonderful!!!! He cares for his patients not only by working on their dental work but getting to know them by asking how was their day at school and etc. My daughter felt comfortable and loved all the staff at South Texas Orthodontist!!! Tiffany also worked on my daughters dental work and she is such a wonderful caring person, she would check on my daughter to make sure she was ok!!! I would recommend Dr. Bruchmiller, he has 2 locations that we would go to located on Tezel Rd. and his offices at La Cantera.
CRYSTAL R.
Everyone in the office is super nice, and they did a great job. My teeth look great!
Madison W.
Dr. Bruchmiller and the staff are great. Invisalign was very easy to use, not painful like braces as a kid were. I'd recommend to anyone.
Charles B.
My 11 yr old and myself have consistently had a wonderul experience with South Texas Orthodontics. Dr. Jackson is calm, professional and very pleasant to work with. The front desk staff is attentive and always engaging. We will be starting our 2nd phase of braces soon and are confident that it will go just as well as the first time. I would highly recommend this practice for all your ortho needs!
Gloria S.
Super friendly staff, very happy with the outcome!
Lexi L.
Great staff. Great results. Our youngest child will be going here when she is old enough for braces.
GG S.
South Texas Orthodontics is great! The Orthodontist assistants that handle most of the appointment know their job well and are so nice and helpful. The front receptionists are always friendly and welcoming . Dr. B is wonderful and professional. One daughter down , one to go lol
Barbara S.
We love Dr. Jackson and her staff! So kind and my Mia smile is perfect!
Mari H.
I love the environment, they make feel welcomed. Every time I come in they ask how I️ feel and they genuinely care. They make me feel like family.
Bella R.
my son, daughter and myself all got our braces done here with Dr. Jackson. Glad I went with Dr. Jackson! Everyone here is personable and makes you feel comfortable, even if you get a different assistant every time. Dr. Jackson explains to you what needs to be done and how she's going to do it to get the results that need to be achieved. I wouldn't go anywhere else!
Michele G.
Our 2nd girl to receive treatment by Dr. B! He and his staff are second to none! Very knowledgeable, excellent "bedside manner" they are perfectionists. We drive all the way from Alamo Heights for treatment. We ♥️STO, Dr. B and Tiffany!
Antoinette L.
I really enjoyed every aspect of the experience. The staff was always very welcoming and interactive with me, making me feel like one with the team. Although I was a little concerned with the wait time for receiving my retainer. Other than that I'm very satisfied with the overall experience.
Giovanna D.
Great experience here with Dr. Jackson. My daughter got her braces off 4 months before scheduled. Very transparent from beginning to end, no surprise fees. Plus they partner with military insurance.
Angela T.
Great service from all locations. Office always willing to assist in appointment changes. Will be setting up daughters braces with SouthTexas also
Pamela E.
Great experience! South Texas Orthodontics is a place I would definitely recommend to my friends and family. Not only were Dr. Jackson and her staff friendly and helpful but they were also very gentle and they get the job done!
Katelyn C.
They have a very friendly staff and environment, Dr. Jackson is welcoming to all her patients and gets the job done.
Karla C.
Dr. Jackson and her staff have been absolutely AMAZING during my braces process from consultation to my D-Band Day! She is probably one of the most gentle doctors I have ever been to and she made me feel so comfortable. Being a doctor myself, I was a little nervous about being on the "patient side" of the spectrum but her first impression reassured me that I was in excellent hands! Her staff is super professional and so friendly that they feel like family! From the receptionist Ariel to the technicians, every appointment was filled with laughter & comfort! Jen and Ashley are especially exceptional at their jobs along with the other staff members! Every technician I had made me feel as comfortable as possible and were very patient with me as I don't have a high tolerance for pain. Every appointment was on-time, professional and informative. They do their absolute best to make you feel as comfortable as possible! Will recommend anyone to go to Dr. Jackson and her staff for all of your orthodontic needs!
Dr. F.
Very good service, employees treat you well. Made my teeth very straight and pretty! Would definitely recommend to anyone who needs their teeth worked on.
Tania H.
They have amazing staff but Ariel is the absolute best to deal with in the front office! She is so sweet, helpful and always makes you feel welcomed. She has excellent customer service skills!
Maria R.
Love this location. Everyone is super nice. Dr. Jackson is highly skilled and was able to help me when help was out of the question. Thank you Dr Jackson and all of your staff. You guys are amazing.
Charlene B.
amazing staff. always helpful. Always find a way to make appointments enjoyable. no complaints at all
Garrett C.
Great staff who made the process of braces much easier and simpler. All of my siblings and I have gone to South Texas and we would not want to go to anyone else!
Brynn B.
I LOVE this place! As an adult getting braces, I was unsure what to expect. My teeth look amazing and I owe it all to Dr. B and his awesome staff!
Cassandra A.
I highly recommend South Texas Orthodontics! The staff is always friendly, quick and professional. Thank you for your great customer service.
Daisy A.
I am so happy with the job Dr. Jackson and her team did with my teeth. I have always wanted braces and today I have successfully complete my journey. Going to miss the team and my monthly visits.
John G.
Exemplary service and professional treatment. This office is superb–from the first when options are explained to you to the last when the braces are removed and retainers are received. Dr B and his staff at the Schertz Office go above and beyond to make their patients feel good about themselves and their treatment. They are willing to make changes to appointments to accommodate changes in the patients' schedules with no hassle at all. If you are looking for the #1 place to take your child or yourself for orthodontic treatment, this is the place!
Floresville
My son just got his braces off, and he loves his teeth and smile. Dr. Brunchmiller and his staff are amazing. This is one of the most efficient doctors offices we've ever been to. Definitely would recommend this doctors office to anyone interested in getting braces.
Paul L.
I love South Texas Orthodontics. The entire staff is always so friendly and helpful. I just finished my Invisalign treatment, and I'm so happy with the results!
Veronica B.
This is my 2nd time getting braces here! Love the doctors and staff! They are great at getting you In for last minute appointments and working with your schedule. They really care! Love this place!
Gena S.
Dr.B and his staff are AWESOME!!
Christie F.
Friendly staff, flexible times, and easy treatment. Couldn't have imagined it going any better. – Em(:
Cin C.
Very knowledgeable and professional staff…Affordable options and appointment flexibility.
Tiesha H.
AWESOME Staff! Lynette is a true professional. Great customer service from beginning to end.
Ricci D.
Our experience at South Texas Orthodontics has been wonderful! The staff were helpful, knowledgeable and now our daughter has a beautiful smile to show for it. I recommend this office and Dr. Bruchmiller to anyone needing braces/orthodontic work.
Jared R.
I had a wire from my permanent retainer poking me. After calling nine orthodontists in San Antonio, South Texas Orthodontics were the only ones who were willing to fit me in that same day and not require me to go through the new patient process and fees. They were very efficient and friendly and I would definitely recommend them.
Margaret S.
I just got my braces off and i'm 100% satisfied with my results, great place to go to if you want braces that will change your life.
Wyatt P.
perfect for kids, they make it painless and enjoyable.
Travis G.
Dr Bruchmiller and his staff are great. Four of my children went through orthodontic care and I would highly recommend!
Barbara P.
I highly recommend South Texas Orthodontics! The staff is always friendly, quick and professional. Dr. Jackson is the best!
Laura T.
Great experience! The staff is very friendly and helpful. We really like that there are offices is many locations around town too.
Grace G.
Love this place!! Amazing staff!! Highly recommend anyone considering braces to go here!!
Nicki W.
We are very pleased with South Texas Orthodontics. Dr. Jackson and her staff are very professional, highly skilled, and super nice. Appointments are made and conducted extremely efficiently. They are on time, and we don't have to wait. I am amazed out how simple the South Texas Orthodontics team has made the whole process. We will definitely be brining in child number two to South Texas Orthodontics when it is time for braces. Thank you Dr. Jackson and all of your staff for a great experience.
Julie P.
We have absolutely loved our experience with South Texas Orthodontics! Dr. Jackson did a wonderful job on our son's braces, and he LOVES his new smile!! Everyone there was always very friendly, flexible, and super accommodating. I would HIGHLY recommend them to anyone considering braces.
Melissa D.
Everyone at South Texas Orthodontics was super nice and kind and I thank them for my beautiful smile!
Jennifer P.
Dr. Jackson and team have been a pleasure to work with! The team here at South Texas Orthodontics have provided nothing but the best for my daughter. Great customer service, friendly staff, and great results. Thankfully this is only a one time deal for my daughter but I definitely highly recommend this office.
Brandyn R.
highly recommend South Texas Orthodontics Dr. Jackson and Staff are awesome!
Carol H.
I highly recommend this office. Dr. Jackson and staff are friendly and knowledgeable. I would definitely bring back my other 2 kids here when it's time to get their braces.
MARY T.
This is the best experience I have had with a health care facility. Dr Amy Jackson and her staff are wonderful. I would recommend them to all my friends.
Joy O.
Everyone was super nice, friendly and helpful! A place I would definitely recommend to family and friends! My treatment went smoothly and as planned :)
Erika L.
Love this practice!!! Dr. Jackson and staff are very advanced in their training, equipment and techniques. In addition, every one of them are patient with my many questions, easy to schedule appointments with and very warm and welcoming professionals.
Tina S.
We have had a great experience with Dr. Amy Jackson and South Texas Orthodontics. Both of our children have worn braces and the care has been excellent over the last 7 years. The staff is caring and work well with patients and families. They stay on schedule and waiting room time is minimal. Dr. Jackson and the staff do a great job explaining the treatment plan and there are no hidden fees, no surprises, just beautiful smiles!!
Lisa S.
The staff is very friendly and always made me feel welcomed. They grow personal relationships with you and take care of you and your needs. I love this place and I have recommended South Texas Orthodontics to all of my friends :)
Liz F.
Dr. Jackson and her team of hygienist did awesome work with my teeth! Not only did she straighten mine, Dr. Jackson did wonderful job with my two kids! I can't stop smiling! Thank you! :)
Stephanie E.
Awesome is the only way to describe our experience. The entire staff at the La Cantera office is great, everyone is friendly and the service is exceptional.
Joseph T.
I am very pleased with my results. Dr. Bruchmiller and all of his staff at all of the locations are awesome!
Diego P.
"Great service, friendly and fast" Highly recommend this office, Dr. Jackson its great. Love coming to all my visits, for me and my children. The staff is always friendly and pleasant.
Sandra B.
Beautiful facility and staff is always pleasant. They have made my sons orthodontic experience very comforting. I highly recommend them!
Christina W.
Have always been pleased with the professionalism from the entire staff. Both our girls have been extremely happy with their overall experience!
Steven H.
My experience at South texas orthodontics I like to consider as life altering. They gave me a fantastic price and an estimated time with braces that trumped all the other orthodontic offices in San Antonio. I don't give South Texas orthodontics five starts for those facts though, yet for the fact of how much I enjoyed the journey. Going to the clinic when my appointments were due was always a great pleasure of mine. All the staff feel like family, it felt like a home not a business. Dr. Bruchmiller also has a significant impact on why I gave South Texas Orthodontics five stars, such a friendly experienced doctor. He would inform me on exactly what he was doing. Dr. B told me my treatment would take a year and a half and he was 100% correct, a rare phonemenon to find with orthodontics. I am so grateful to this place, and I honestly will miss going to my appointments.
Brendan T.
Everyone is friendly, professional, and very helpful. We love Dr. Bruchmiller!!! We highly recommend South Texas Orthodontics!!
SY D.
Quick appointments with very nice and professional hygienists. No complications with payments or treatment. Great experience and I'm very happy with my teeth!
Cassidy K.
We have loved going to this location! The staff is very friendly! I would highly recommend them!
P O.
Dr. Amy Jackson and staff are amazing, they went beyond their job to make my exprerience easy and comfortable. I am 37 yrs old and work in customer service, i had always been self councious of my smile. my braces came off last week and the results where everything i wanted plus more. thank you for giving me a wounderful smile! my son is currrently under Dr.Jackson"s care and we are truly happy with his progress.
RUBEN F.
Professional and friendly, at every visit, the South Texas Orthodontics Treatment team is the best! Dr. Jackson is skilled in her profession, an excellent communicator, and is very kind in her care of my son. The staff is always efficient and clear with their instructions. I especially enjoy being greeted by Ariel, who is always cheerful and kind, at each appointment. Having had two children receive their full orthodontic treatment from STO, I highly recommend them.
Jerelyn B.
Had a great experience! Staff was very friendly and Dr. B was great!
Megs F.
Outstanding. Professional team and outstanding service provided by staff and Dr. Jackson.
Kimira C.
Dr. Jackson and Staff are absolutely awesome!! My son Evan got his braces off yesterday after 2.5 years of care and he looks great!! Very happy, and highly recommend!
Jeff A.
"Dr. Jackson and the staff are awesome !!!! We always leave the office with smiles on our face and no unanswered questions"
Carlos S.
Such a great place to get your braces at!! Always so friendly and very flexible with appointment scheduling. Always puts the customer first!!
Falon M.
My daughter got her braces off in less than two years. Everyone who works in this office is very friendly and willing to answer any questions. Her smile looks beautiful. I highly recommend this orthodontics office.
Jacqueline P.
I've been a patient of Dr. Bruchmiller for the past year and I'm so happy with the results I got! I had this one stubborn tooth that always made me feel uncomfortable smiling in pictures but he helped me finally get the smile I wanted. Everyone in the clinic is extremely nice and they will accommodate to your needs. They've even serviced me, regardless of the fact that I had to move cities!
Dina A.
Took my daughter 2yrs ago. She now has a beautiful smile! Taking my other 2 kids when it's time for them to get braces.
Sandra R.
They do a satisfying job with taking care of customers teeth. I recommend going to South Texas Orthodontics. The staff is very nice and they have high spirit. I'm always walking in and out with a smile.
Ellaiza A.
Fantastic team of Docs and staff. Great experience from start to finish. They do an excellent job of creating a treatment plan based on your needs, goals, and budget. They cater a plan specifically for you and each step is clearly explained. They are accessible and happy to answer questions. There are also multiple locations, which is helpful when trying to schedule appointments. Highly recommend this practice.
Ben C.
I highly recommend South Texas Orthodontics. The staff and Dr. B are Great!! Our daughter had her braces on for about a year and never complained of pain. I recommend everyone come here for braces!!
Erika
The staff is so friendly and Dr. Burchmiller is Awesome.
Patricia C.
Friendly staff and Dr. Bruchmiller is great.
Emily O.
I loved going to the Schertz location. Everyone is always smiling and shows such positive attitudes. Thanks for everything you guys my teeth look amazing
Katie P.
We love Dr. Jackson and her staff! We finished with a BEAUTIFUL smile and can't say enough about the professional, friendly, and personal treatment Dr. Jackson and her staff provide!! We will be returning with our next child!!
Taylor M.
my teeth look amazing after I got my braces off!!!
Baylee B.
My daughter's experience at South Texas Ortho (Schertz) was excellent. The staff are friendly and professional and Dr. B would take time to answer any questions we would have. Would recommend.
Beth H.
Dr Jackson and her staff did a great job with both our sons' orthodontic work. We were very pleased with the alignment results, the ease of appointment setting and the total care they received. We will be returning for our third son when its his turn!
Sandy R.
South Texas Orthodontics is the best place to get a perfect smile. The Blanco office is convenient, well organized, and extremely friendly. From the initial visit and throughout my treatment, Dr. Cochran and the Staff were very knowledgeable and made me feel comfortable, as they were always quick to shake my hand and take the time to see how I was doing outside of treatment. I am confident I received a 5-star treatment and would encourage anybody to stop searching for a perfect orthodontics because South Texas Orthodontics is the right choice. They are reliable, affordable, and simply the best option available.
Trevor D.
Two girls with fantastic smiles! We are very happy with our experience.
Mandy T.
I just took my braces off a week and am in love with my smile. I started of with crowded teeth in the bottom teeth and crooked teeth on the top. it took about two and half year only because I had three missing tooth on the top and my orthodontist was holding the space for my implant. I think it would have to about 18 month. I was very pleased with the result. The staff are very professional and always explain what they where doing at every visit. I was also able to stop in without appointment for emergency bonding or fixing of my braces. Dr B was wonderful and you can tell he loves what he does. He has worth of experience which I loved.
Afua B.
Dr. B, and the staff at South Texas Orthodontics, did an amazing job on my son's smile! From start to finish, it was a pleasant experience.
Kelly S.
The staff was very friendly and wonderful! I recommend it!
Deborah W.
My daughter has a beautiful smile she's proud of. Thank you!
Ericka R.
Great experience with both my sons an my Braces.. Great team.. Great Locations!
Priscilla L.
Ashley is amazing.. out of the year and a half I've had my braces i never had a bad experience with them. Everyone is so personable and welcoming. I'm glad my teeth are straight but I'm going to miss seeing the staff so much.
Erica T.
My daughter has been coming to South Texas Orthodontics for several years. Her teeth were extremely crooked and required 2 sets of braces. Dr. Bruchmiller saw the vision of her straight teeth and made it happen with pure expertise and passion for making all of his patients smile their best. We have felt like family since 2009. Today my daughter got her final set of braces off. The smile on her face was so pure, so beautiful, so confident. I put my precious child in South Texas Orthodontics hands and they safeguarded her health as if she were their own child. WE LOVE SOUTH TEXAS ORTHODONTICS. I recommend to every one I know who needs braces that this is the place they need to be. Today was bittersweet, we will have to come visit from time to time. Thank you for everything
Ryann C.
Dr Jackson and her whole staff are always so nice and helpful. They go out of their way to make you comfortable. Everyone I have encountered there is very knowledgeable and skilled. Highly recommended.
Vanessa G.
I LOVE the staff at South Texas Orthodontics! So helpful and kind.
Jared B.
We chose South Texas Orthodontics for both our children. Our son recently completed Phase 1 and will be beginning Phase 2 next summer. Our daughter will be getting her braces off next Tuesday, 13 October 2015!! We could not be happier with Dr. Jackson and the entire staff at South Texas Orthodontics. I have recommended her to all the parents I know that have children in need of braces. Thank you again Dr. Jackson and I look forward to continuing to work with you on our son so we can achieve that same beautiful smile for him that we are about to unveil on our daughter new Tuesday!
Dennis N.
They were awsome… treated us like family. They were always proffesional and kind.
Debye P.
Overall our experience with Dr Jackson has been excellent, dental assistants are professional, and the office staff is very accommodating and easy to work with. If you need braces and want a beautiful smile I highly recommend South Texas Orthodontics.
Sherry M.
South Texas Orthodontics has been great! I came to them at the end of my braces treatment and Dr. Bruchmiller picked up right where my previous ortho had left off. It has been a quick and successful completion to having braces. Thanks Dr. Bruchmiller.
Chris W.
Thank you for the great service. Every time I went in for an appointment I was welcomed and treated with respect. I always felt comfortable asking all and any questions I had. I give STO two thumbs up and five stars all the way.
Rebecca H.
Great experience during every phase of "getting braces." Very efficient, friendly, timely and reasonable prices. Dr. Bruchmiller is good with kids and cares about the person. Would recommend them to anyone.
Joni G.
CareCredit
CareCredit is a healthcare credit card designed for your health and wellness needs. Pay for the costs of many treatments and procedures through convenient monthly payments.