What's Meant by Orthodontic Dentistry?
Orthodontic dentistry is a specialty field of dentistry that diagnoses and corrects structural misalignments and irregularities in the teeth and jaw. Corrective measures can include surgical procedures and orthodontic appliances. Braces are a very commonly used orthodontic appliance that will straighten and align the teeth and jaw. They're very common for older children and teenagers but are becoming increasingly common among adults who want straight, even teeth. If you or your child need an orthodontic appliance, then call us to schedule an appointment with an orthodontist in our office.
 Why Would I Need an Orthodontist in San Antonio?
If you have bite issues or structural irregularities with your jaw or teeth, then you may need orthodontic work. Some of the problems orthodontics can fix include crowded teeth, gaps between the teeth, jaw misalignment, crossbites, open bites, overbites and more.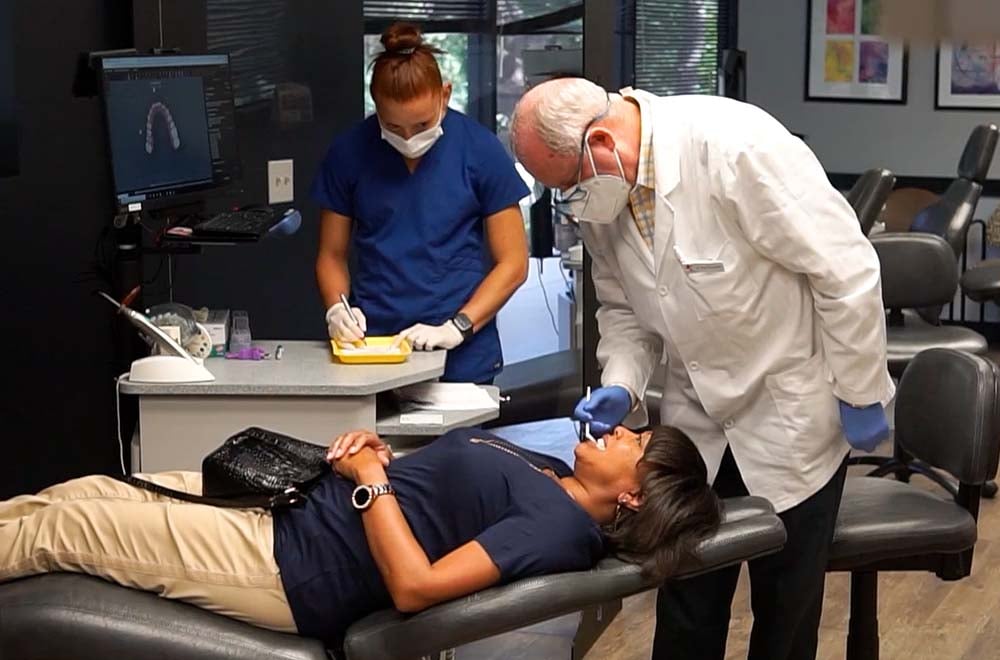 All of these are considered to be structural issues that should be corrected. Left untreated, they can cause distortion of the face and jaw, earaches, headaches, and problems with eating and speaking. They can also contribute to the onset of decay and cavities because food particles become lodged in the crevices and begin to decay. If you or your child have any of these issues, then call our San Antonio office today to schedule an appointment with an orthodontist in our office.
 What Are the Different Types of Braces in San Antonio?
Advances in the science of dentistry have provided a wide assortment of options from which to choose. In addition to the metal style that is often used for children, patients now have the option of ceramic, clear and invisible style, so that no one will know that you're wearing some of these new types unless you tell them. If you're interested in learning more about your options, then call our San Antonio office and we'll be happy to answer your questions.
 Why Would My Child Need Braces in San Antonio?
If your child has bite issues similar to any of those listed above, then an orthodontic appliance may help straighten their teeth so that they have good oral health. Usually, children need to have their permanent teeth before we'll install these types of dental appliances, so call our office if you have questions.
We are dedicated to pediatric orthodontics because we don't want our young patients to feel that they're being singled out or feel embarrassed because they need orthodontic treatment. When a child has a positive experience at the dentist's office, they're more likely to develop lifelong good dental hygiene, so we strive to ensure that our young patients have a positive experience. We know that orthodontic treatments can be expensive even though you want your child to have good oral health, so after we've examined your child, we'll provide you with a detailed breakdown of the work that needs to be done and the cost for each procedure. We accept most dental insurance, we have a discount plan available, and we have a variety of financing options available, so we'll be able to provide your child with the treatments they need while remaining within your budgetary parameters. If your child needs orthodontic work, call our San Antonio office and schedule an appointment.
What About Teens and Orthodontic Treatment?
We offer adolescents in and around the surrounding areas of San Antonio comprehensive orthodontic care.
Between the ages of 11 and 15 is the most common time for orthodontic treatment, and for good reasons. By 12, most if not all of the permanent teeth have erupted and are in place, and crooked teeth, gaps and bad bites can easily be detected. These problems will hardly ever correct themselves, so this is when most parents decide to seek orthodontic treatment. This is also a good time for orthodontic treatment because many negative associations of braces are not present. Many children in this age range undergo orthodontic treatment, and children are very often able to be convinced to wear braces because they see their friends wearing them, too, and want to fit in.
 Why Would I Need Adult Braces in San Antonio?
Adult braces are necessary for the same reason that a child would need them. Many adults have had structural misalignments in their teeth and jaw throughout their lives, and they'd like to have straight, even teeth. If you're in this category, then call our San Antonio office for a consultation. Your orthodontist will thoroughly examine your teeth and then recommend the best types of braces for you. Following your orthodontic dentist's recommendation will yield the best results for the procedure, so call us today and let's get started on the beautiful smile you've always wanted.
 What's the Average Cost of Braces in San Antonio?
The cost of your orthodontic procedure will be unique to you, and will depend on several factors, including: 
The area in which you live
Your dental insurance benefits
The type of braces you need
The materials that will be used
The duration of your treatment
The number of office visits required
The number of follow-ups you'll need
Whether for you or your child, we'll provide an estimate of the braces cost, covering the entire procedure, and we'll work with you to ensure that it's affordable. We want our patients to have the orthodontic dentistry they need and not forego needed treatment because of financial constraints.
 Where Can I Find Affordable Braces Near Me?
If you've been searching for an "affordable orthodontist near me," then call South Texas Orthodontics at and let us help you. We're skilled at providing orthodontics and we'd love to work with you. We do our utmost to maintain our excellent reputation, so you know that we strive to give you the best treatment possible. If you need an orthodontist in San Antonio, call us. We look forward to helping you achieve your smile goals, so call us today.